The Law Office of Sean F. Eagan specializes in residential real estate closings and offers unparalleled customer service and real estate expertise.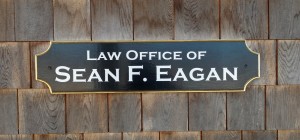 Attorney Sean F. Eagan represents Buyers, Sellers and Lenders of all varieties on Cape Cod, the Islands, Boston and surrounding region.  Sean provides clients with a smooth, efficient and stress-free closing experience.  He also makes it a point to respond to clients in a timely manner by promptly returning all phone calls and emails.  Sean not only provides legal advice, but also offers practical, real-world guidance so that clients can make fully informed decisions.  Sean looks forward to working with you on your next transaction whether you are buying your first home, selling your long-time family residence, refinancing your mortgage or expanding your real estate portfolio.  Call Sean for advice and he will explain how he can guide you through the process making sure to take care of every detail!
"As a Real Estate Broker and previously as a Mortgage Banker, I have worked with Attorney Sean Eagan for the past 20 years, and he continues to be in my opinion one of the finest and most reliable conveyancing Attorneys in Eastern Massachusetts. I use him as often as possible because he is very intelligent, honest, and trustworthy, and makes every Real Estate closing a pleasant experience for all involved."
Laurie H, Cotuit MA